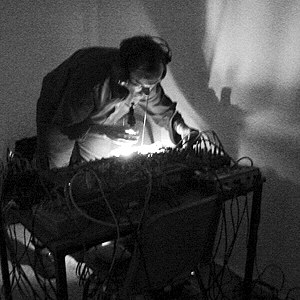 Dear Kate,
the musicians already submitted their program, I am so excited to hear their perception and ideas about palimpsest.
Here a glance of what they are proposing….
David Pirrò and Hanns Holger Rutz are two computer musicians who picked Graz as their new hometown, just as we did. For their concert they are preparing an electroacoustic improvisation with self-made software. The interaction of the musicians with their instrument transforms it, the laptop becomes a partner in the performance rather than a passive "instrument" producing a permanent energy supply around the player needs and thoughts.The focus of the concert,that will take place on the Welsche Church in Graz, is a mutual write-and write operation. A sound object moves from one player to another, is dismantled and reconstructed and spatially represented.
---
David Pirrò
David Pirrò (*1978 Udine, Italy), studied piano at the Conservatory
and physics at the University of Trieste. In 2004 he obtained the
Master degree in Theoretical Physics. He worked at the CSC (Center for
Computational Sonology) in Padua. In 2007 David concluded his studies
at the Conservatory in Trieste with a Master in Computer Music and
audio-visual composition. Working together with Prof. Paolo Pachini he
realised and performed diverse audio-visual and electroacoustic
compositions.
Since 2007 David works at the IEM (Institute of Electronic Music and
Acoustics) in Graz, Austria as lecturer and researcher in several
scientific projects in the fields of sonification, interaction design
and spatialisation.  His artistic works include interactive
compositions and sound installations as well as audiovisual and
electroacoustic pieces. Performative as well as spatial aspects are
central in his works.
Hanns Holger Rutz
Hanns Holger Rutz (b. 1977 in Germany) studied computer music and
audio engineering at the Technical University Berlin, and from
2004–2009 worked as assistant professor at the Studio for
electroacoustic Music (SeaM) Weimar. He holds a PhD conducted at the
Interdisciplinary Centre for Computer Music Research (ICCMR) in
Plymouth (UK). His compositions include tape music, works with video,
as well as collaborative works with theatre and dance. His recent
focus is on sound installation, electronic live improvisation and the
development of novel algorithmic systems. His work has been presented
in international festivals, exhibitions and concerts, including
Germany, Austria, Romania, Latvia, Denmark, England, Spain, Slovenia,
and Venezuela. He currently lives in Graz and works at the Institute
for Electronic Music and Acoustics (IEM).
---
Dear Naya,
"A sound object moves from one player to another, is dismantled and reconstructed and spatially represented." A simple statement revealing a beautiful concept. Beyond the piece itself, which accompanied me for days afterwards, there was something electrifying about sitting in the exquisitely dark Baroqueness of the tiny Welsche Kirche and being immersed by all the very real technology, the loudspeakers, the spaghetti of cables, the laptops, into an increasingly intense, layered soundscape that both contradicted and magnified the environment.